24 Ga. (0.025″) to 11 Ga. (0.120″) thick material
---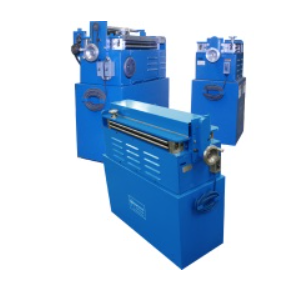 ---
Specifications
Models: 5H-10, 5H-20, 5H-30, 5H-40, 5H-48, & 5h-52
Thickness Range: 0.025″ to 0.125″ (0.610mm to 3.175mm)
Width Range: 5/8″ to 52″ (varies by model)
Material: Cold or hot rolled steel, stainless steel, aluminum, copper, and brass.
Speed: Approximately 100 fpm (34 m/min)
Electrical: Standard AC 115V
---
The 5H Series edge finishing systems employ the same time-proven concept that made the original V-Series, one of the most popular machines of their type. Today, utilizing modern materials and the latest technology, the 5H Series is even better. They can be used to edge strip, blanks or placed in a coil line operation.
Time Proven Design Assures Consistent Quality
The entire line of Gauer 5H Series Edge Finishing Systems still retain the time proven basic design that has earned them industry respect. Of course, over the years, we've made several improvements and modifications but have always maintained the simplicity of operation, the rugged construction, and the high quality of manufacture. These Systems remain the answer to elimination of costly hand edging of strip and blank, plus the added advantage of use in coil line operations.
---
Optional Equipment
Variable Speed Drive: Adjustable for speeds from 0 to 125 ft/min.
Loop Control: Provides a loop after the edger, allowing resistance-free feed to other components.
Override Clutch: Allows an outside power source to pull coil stock through at the speed of the other components in the line.
Pneumatic Back-up: Compensates for width variations in sheet or strip material.
Powered Exit Pinch Rolls: Ejects wide and long sheets.
Feed Tray: Guides large sheets.
Removable Material Hold-Down Rolls: Used for light gauge and wide material. Prevents bulking.
Castered Base: Facilitates mobility.
Feeding Guides: Guides and feeds short blanks.
Special Power Supply: other than 115 volt, single phase, 60 Hertz