20 Gauge (00.036") to 3/16 inch thick material
---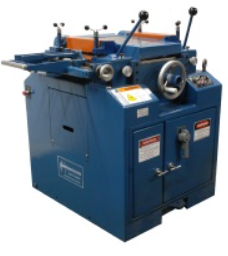 ---
Specifications
Model: 9H-10
Thickness Range: 0.036″ to 3/16″ (0.914mm to 4.762mm)
Width Range: 1/2″ to 10″ (13mm to 254mm)
Material: Cold or hot rolled steel, stainless steel, aluminum, copper, and brass.
Speed: Approximately 125 fpm (38 m/min)
Electrical: 230/460V, 3 phase, 60hz
---
This 9H-10 mechanical bar edging system has been designed to cover a wide gamut of requirements. It can produce edge finished bar from sheared plate eliminating the necessity of stocking hundreds of different sizes, ranging up to ten inches wide.
Engineered for rugged duty
The advanced design coupled with the use of quality components and stringent controls during manufacture make the 9H-10 a very durable, extremely efficient system for in-plant edging of metal strip. Edging capability along with the decambering and detwisting performance of this equipment can provide a flexibility of production that will result in reduced costs. These savings can be realized by eliminating inventories of pre-edged material and possible delays in production runs caused by outside suppliers.
The 9H-10 can be ordered equipped with a variable speed drive and loop control that makes synchronization with other line equipment extremely easy. The finished edge may be varied from a deburred safe edge within the complete thickness range, to a rounded corner edge on 3/16″ material. Camber and twist control are achieved by simple adjustments.
Optional Equipment
Override Clutch: Permits stock to be pulled thru machine by other equipment.
Variable Speed: 0 – 125 ft/min Electrical requirement 230V, single phase, 60 Hz. (SCR Drive System)
Variable Speed with Loop Control: SCR Drive System with dancer arm limit switch control.