---
Gauer Model 10H-CTL Edging Machine
---
1/8 inch to 1/2 inch thick material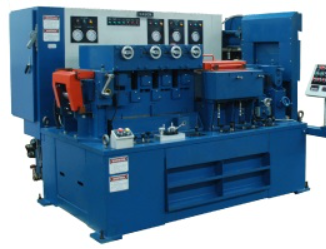 This 10H Cut-To-Length bar edging and straightening system has been designed to cover a wide gamut of requirements. It can produce edge finished bar from slit coil and sheared plate eliminating the necessity of stocking hundreds of different sizes.
Reliability
The 10H Machines have been designed and manufactured to incorporate the highest quality components commercially available. All parts are manufactured under stringent specifications and conservatively rated to provide long life even under adverse conditions. Fittings and hydraulic piping are carefully and thoroughly inspected before use. An oil to air heat exchanger has been incorporated into the design for temperature control as opposed to the more troublesome water systems. In all, these 10H Machines are a less cumbersome and more efficient cut-to-length, coil and bar edge finishing systems than any equipment commercially available.
Maintenance
Gauer's development of a totally hydraulic machine has given Gauer a superb reputation for equipment that seems to be indestructible. The hydraulic system filters are monitored and automatically provide indication when filters need changing. The filters themselves are the easily changed cartridge type and only need replacement after many hours of operation. The use of a hydraulic drive system completely avoids the damaging stall torques of other arrangements. This is important in preventing damage in the inevitable cases of operator set up error.
Specifications:
Model: 10H-CTL
Thickness Range: 1/8″ to 1/2″ (3mm to 13mm)
Width Range: 1″ to 8″ (25mm to 200mm)
Length Accuracy: within 1/16″
Material: Ferrous & non-ferrous metals with a max yield strength of 50,000 psi (345 N/mm²).
Speed: Variable, up to 200 fpm (60 m/min)
Edge Capability: Universal Mill Edge, Square Edge, Modified Square, or other special forms subject to approval.
Electrical: 460V, 3 phase, 60hz (230V available)
Total Power: 78 hp (58 kW)
Dimensions: 7'0″ L x 7'1″ W x 5'10" H
Weight: Approximately 13,500 lbs.