High Volume,  Non-Stop Production
---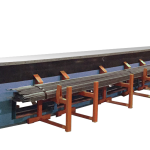 ---
Additional Information
Two-way dumping without table interference

Modular design

Adjustable stock cradles to suit bar lengths

Simplicity of operation

Eliminates production hold-ups

Engineered for rugged service
---
CONSISTENT QUALITY, TIME PROVEN DESIGN
The Gauer Double Dump Table was designed concurrently with the Gauer CTL Systems. The principle behind its operation is as old as the Egyptians-the wedge. This design allows bi-directional dumping without table interference.
There is no hold up in production due to the two-sided dumping ability of the table. When cradles on one side of the table are full, a simple adjustment allows dumping to the cradles on the other side. Stock cradles are adjustable allowing accommodation for bars of various lengths.
The dumping action permits a new bar to be fed before the table returns to its full upright position, providing maximum production line efficiency. The time proven design and simplicity of operation, makes this a most valuable option for the Gauer Bar Edger and Cut-To- Length Line.
OPERATION
The operation of the Gauer Double Dump Table consists of a few push buttons, a selector switch and a lever – simplicity at its best.
When the end of a bar is detected, the pinch rolls are actuated, moving the bar onto the table.
The Dump Table itself consists of a two-way dumping action into independent stock cradles which can be moved anywhere along the table to suit bar length.
The operator preselects to which side the bar will dump or inhibit dumping to inspect the bar.
If an inspection process has been performed, the table can be dumped by means of a push button and subsequently set for automatic dumping thereafter.
When the stock cradles are full, dumping to the opposite side, by means of a lever, assures uninterrupted production while the completed bars are removed.
The wedge dumping action assures maintenance free production for many years.
The modular design, which consists of a control unit and additional non-driven modular sections, allows the flexibility and cost effectiveness needed when production requirements demand longer bars.