20 Ga. (0.036″) to 11 Ga. (0.120″) thick material
---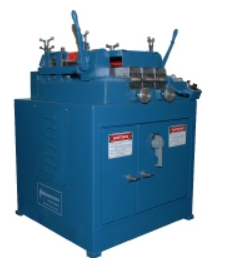 ---
Specifications
Model: 6H-10
Thickness Range: 0.036″ to 0.125″ (0.914mm to 3.175mm)
Width Range: 5/8″ to 10″ (16mm to 254mm)
Material: Cold or hot rolled steel, stainless steel, aluminum, copper, and brass.
Speed: Approximately 125 fpm (38 m/min)
Electrical: 230/460V, 3 phase, 60hz
---
Provides many of the same capabilities as the 9H-10, but for lighter duty operations. Can also be equipped for coil line operations. This machine is recommended for coil line applications where width adjustment is from a constant back edge.
Production Line Engineered
The 6H-10 has been engineered to fit into, and/or compliment production line requirements, eliminating extra costs and possible delays caused by ordering previously round edged or deburred material. Additionally, by round edging or deburring in your plant (on your own equipment) there is no need to carry inventories of pre-edged material. In line with the obvious advantages of in-plant edging, the 6H-10 provides excellent decambering and detwisting capabilities on sheared or coil stock. This machine can also be equipped with an override clutch or variable speed and loop control, permitting synchronization with other components in coil line operations.
The 6H-10 machine satisfies that market segment occupied by the company who needs a quality machine that can edge strip or blanks, requires the ability to decamber and detwist and/or can use an edging machine in coil line operations at minimum labor cost.
---
Optional Equipment
Override Clutch: For coil line, pull thru operation permitting material to be pulled through the machine by an outside power source at production cycle speed
Variable Speed with Loop Control: SCR DC Drive Motor and Loop Control Arm, speed 0-125 ft/min.